To keep your carpet looking and feeling wonderful for many years to come, you'll want to incorporate some simple care and maintenance steps into your daily routine. Read on to learn more!
Daily care & maintenance
Start by placing door mats outside and inside all entrances to help absorb soil, moisture, excessive dirt, sand, grit, oil, asphalt, or driveway sealer that might otherwise be tracked into the home. Clean mats and all area rugs regularly so they don't become soil sources themselves. Here are some other maintenance tips:
Vacuum regularly: Walking on soiled carpet allows dirt and oil particles to work their way below the surface of the pile where they are more difficult to remove, causing damage to carpet fibers. Frequent vacuuming removes surface soil. For rooms with light traffic, vacuum traffic lanes twice weekly and the entire area once weekly. In areas with heavy traffic, vacuum traffic lanes daily and the entire area twice weekly. Up to three passes of the machine is recommended for light soiling, but five to seven passes are necessary for heavily soiled areas. Change vacuuming direction occasionally to help stand the pile upright and reduce matting.
Extend the life of your carpet with a quality vacuum: Invest in a good vacuum cleaner to get the dirt you can't see and prolong the beauty and life of your carpet. Ensure your vacuum conforms to the highest industry standards and is certified by the Carpet and Rug Institute (CRI). Some heavy weight carpets may have specific vacuum requirements.
Furniture: Moving your furniture occasionally can both renew the feel of your room while also preventing excessive pile crushing. Place carpet protectors under the legs of tables, chairs and other furniture to help distribute weight. Damage can occur if using chairs or appliances with rollers or casters without a chair pad designed specifically for carpet. Protect carpet when moving furniture by placing a protective barrier of heavy cardboard or plywood underneath.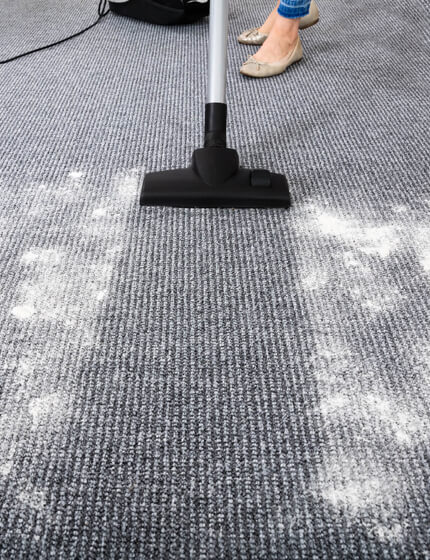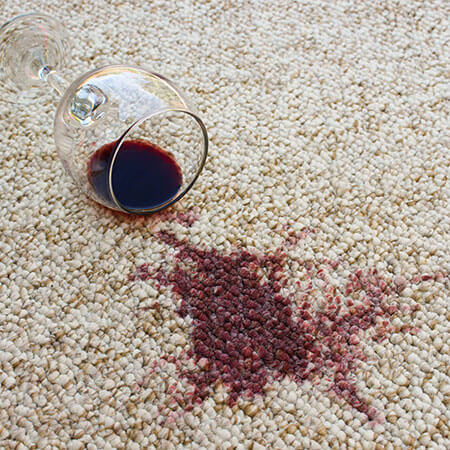 Spill, Stains and Professional Cleaning
No matter how careful you are, your carpet will likely fall victim to a spill or mess of some sort–especially if you have children or pets. If this happens, don't panic! Many of our carpets are sold with stain-resistant technology built right into their fibers, making it easy to clean common household messes. Still, it's important to address spills as quickly as possible.
First, determine if a spill is water- or oil-based. You can use a clean cloth to absorb some; others will require a more comprehensive approach. For these, you'll want to take a look at your manufacturer's cleaning guidelines
Hot steam extraction: Many of today's carpet manufacturers heat set fibers at a high temperature. Therefore, most recommend a professional, hot steam extraction every 18-24 months in high traffic areas to rejuvenate the fibers and re-set them. Refer to specific manufacturer's warranty details to confirm recommendations for your specific carpeting.